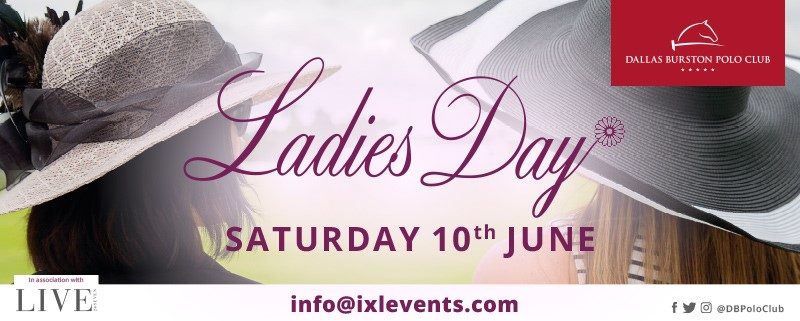 Style is taking over Warwickshire once again as the ladies of Britain prepare for Dallas Burston Polo Club's 6th Ladies' Day, in association with the luxury lifestyle magazine Live 24-Seven.
Get set for a thrilling day of champagne, fashion and polo!
Tickets:
Clubhouse – £35.00 per head
Exclusive all-day wristband permitting access to the Colonial Clubhouse, please note this includes the Snaffles Bar, front terrace and side verandas | These areas are all free-flow spaces, seating will be available on a first come, first serve basis | Views of the polo games | Lunch buffet | Live entertainment | Polo commentary | Prize-giving for the best dressed Lady | A chance to indulge in traditional divot stomping on the polo pitches | Access to the VIP After Party
QEII Jubilee – £80.00 per head
SOLD OUT
Free General Entrance
£10 per car – a donation of which will go to charity
*Brand New* VIP After-Party
Tickets available to purchase for an extra £7.00 per person.
For Details/Bookings
Please contact our office on 01926 811 111 or email info@ixlevents.com.