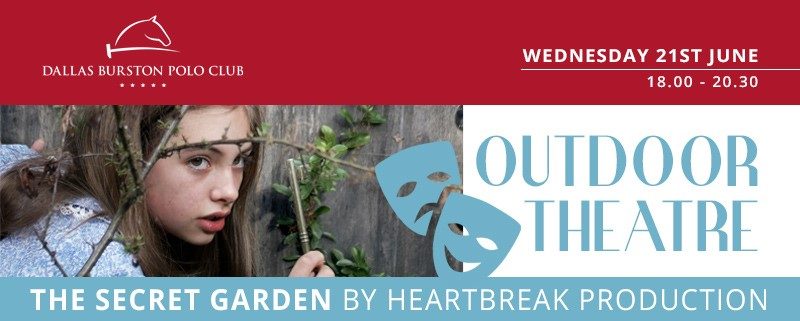 Outdoor theatre specialists, Heartbreak Productions are out on the road again this summer and touring throughout the UK with their adaptation of Frances Hodgson-Burnett's classic family tale, The Secret Garden. As part of the tour, the performance can be seen at Dallas Burston Polo Club on Wednesday 21st June.
The story revolves around Mary, orphaned and newly arrived from India, who is placed under the care of her grief-stricken uncle in the middle of the Yorkshire Moors. Discovering a locked secret garden left to grow wild, Mary is determined to gain access but in doing so, she uncovers more than an over-grown patch of land. The Secret Garden is a story that has captivated and charmed people of all ages for many years as it tells a tale of rebirth and developing friendships. Renowned for their unique style, Heartbreak Productions tour their brand of outdoor theatre to venues across the UK with a small but multi-talented cast of actors.
"Expect singing, dancing and music alongside great acting from our teams." Explains the company's director Maddy Kerr, "We pride ourselves that there's something for everyone in our shows and love to engage and get audiences involved – our unique outdoor performances offer a new perspective on well-known texts for theatre-goers of all ages to enjoy."
Heartbreak is delighted to welcome Paul Chesterton to direct the show. "I am so pleased to be joining the Heartbreak team for the first time this year and delighted to be directing such a funny, joyous and charming take on this family-favourite."
This new production of The Secret Garden tours throughout the UK this summer and promises to be a sure-fire hit for audiences of all ages. The performance at Dallas Burston Polo Club on Wednesday 21st June. Gates open at 18:00 for picnics with the performance starting at 18:30. Tickets are £10 for children (0-14 years), £14 for adults (family tickets are £43 and are based on two adults, two children) and can be purchased online (Click here to book), by phone on 01926 811 111 or in person at the Estates Office, Dallas Burston Polo Club. Heartbreak Productions have been touring both the UK and abroad for over 25 years with a repertoire of productions numbering over 50.
The Secret Garden is part of company's 2017 Summer Season which also includes Billionaire Boy, Northanger Abbey, Murder on the Terrace and The Taming of the Shrew.
Details about these can be found on their website – www.heartbreakproductions.co.uk.
Recommended age: 6+
Picnics are welcome.
Externally purchased alcohol is not permitted on site. A bar will be available to purchase refreshments on the night.
Bring your home-grown fruit and veg and enter Heartbreak's horticultural competition.
Tickets:
Children*: £10.00
Adult: £14.00
Family**: £43.00
*Children up to 14 years
** Family of 2 adults and 2 children
For Details/Bookings:
Please call the office on 01926 811 111 or email info@ixlevents.com