Party into the New Year at The Millstone Hare!
Raise your glasses with family and friends and cheers to 2019.
We're celebrating New Year's Eve properly! For just £20 per person, you can enjoy a glass of fizz on arrival and party through into 2019 – this is the perfect way to start your New Year!
Tickets are available from The Millstone Hare, either call 01926 830 255 or email millstonehare@ixlevents.com for details and bookings.
Details for the New Year's Eve Party…
Dress to impress.
The party is from 8pm until late!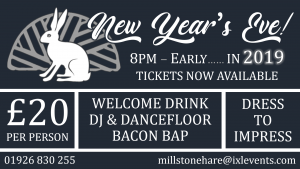 More from The Millstone Hare…
Follow us on Facebook – click here
See our Christmas menu – click here