Bringing out the Big Sounds
With a state of the art Nexo system in the IXL Events Centre, DBPC was delighted to welcome NEXO HQ to the Club to launch two remarkable new products.
Using both King's Court in the IXL Events Centre, then heading outside to really let the speakers stretch their legs, Nexo's R&D engineer Mathieu Pobeda, the UK Sales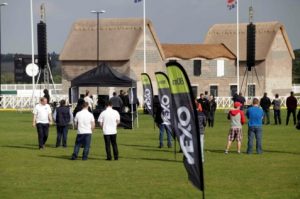 Manager Gather Collyer, and the Concert Sound Rep Stuart Kerrison introduced the new speakers.
The Nexo Geo M6 – compact, versatile and powerful – was showcased inside, becoming virtually invisible against the décor of the room. The demo of the M6 was followed by the STM M28, initially showcased inside until the real show began out on Yellow Ground.
One of the reasons Nexo chose DBPC was the availability of large open spaces well away from any population. With 12 M28s per side on a portable tower, the system delivered Rage Against the Machine's Fistful of Steel with exceptional finesse and accuracy.
Set Up & Layout
Load in began on Monday 29th September with the arrival of Nexo's equipment. Fabtronic, who installed the in-house speaker system for the IXL, assisted in fitting the demo system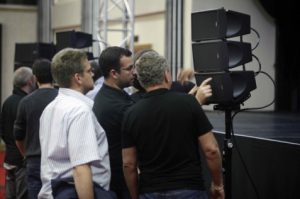 .
The venue was set up with 100 seats theatre style, centrally located in front of the stage, keeping the guests together as well as allowing space to move around the venue to appreciate the full range of sound.
Lunch was a hot buffet offering traditional 'pub grub' – sausages and mash or fish and chips, provided by Flavour Catering. Served from one of the alcoves of King's Court, the guests were able to make use of the Terrace Lounge during the break.