An office outing to the polo
Forget the rugby, football, or Silverstone, polo is the perfect sport that will appeal to both the men AND women in your office. Spectating and enjoying hospitality is great inviting partners and families, whilst learn-to-play experience days are fantastic team-building and incentive activities.
Polo can be enjoyed by anyone, regardless of age and experience with horses, so read on to find out how!
Spectating & hospitality
From simply sending a flyer round the office to encourage people to pack a picnic and head out to one of our big polo fixtures (for free!) to a more structured hospitality day out, there's plenty of scope for entertaining valued guests.
A typical example of this could include drinks on arrival, an introduction to polo by a professional, watch fully commentated matches, and sit down to a sumptuous three-course lunch in one of our pitch-side venues.
If you're celebrating corporate success or a special event in the company, you can really take ownership of the day and raise the stakes with tournament sponsorship – with opportunities for extensive branding across site, trophy presentation and huge exposure.
Learning to Play
One of the things we love most at DB is the difference in a group before their first polo lesson, and then their expressions after. We guarantee that every member of the group will be able to take part in the practice match at the end of the session, hitting the ball and confidently controlling their pony!
A typical full day experience could look like this:
10.00       Arrival, welcome, coffee
10.15        Introduction to Polo, demonstration of the polo swing and handstick practice
11.00       Guests meet their ponies, head out to the pitches. Introduction to polo style, basic control of a polo pony, basic stick skills
12.30       Lunch – tailored to your preferences
13:30       Rules and tactics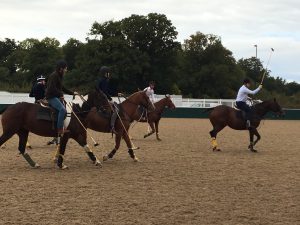 14:00      Mounted stick and ball lesson
15:30       Play chukkas in matched teams
16:30       Post match discussion over drinks in the bar
We can't stress enough that you don't need any experience riding horses to have a go!
Drop Huw a message today to find out more – polo@dbpoloclub.com