Banner Advertising at our SuperArena®
Whether you're a local restaurant, a national health food store, or an international sportswear brand – or any other business for that matter banner advertising is a great way to advertise your business!
As a business, we are sure that you are always looking for ways to increase brand awareness, attract new customers and generate revenue.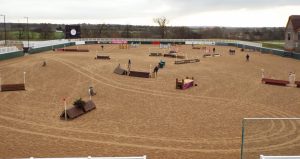 While there are ever more intricate ways of advertising your business, product or service online – through social media campaigns, web banners, e-shots and the like, traditional advertising – that which is not viewed on a screen – is still an essential stream for many companies, large and small, and should not be overlooked in your advertising strategy! According to Statista, the UK's annual outdoor advertising revenues catapulted from just shy of £700 million in 2000 to over £1.2 billion in 2018, which shows that outdoor banner advertising clearly has results, and is here to stay.
Benefits of physical banner advertising
With the average person receiving 1,700 internet banner ads per month (SmallBizGenius), getting your message heard in the online sphere can be a confusing and difficult task. Physical banner advertising has many benefits to its digital counterpart, including:
Inexpensive and cost-effective
Successfully targets specific consumers
Visible for much longer (one year plus, as opposed to a matter of seconds)
Can help to increase the effectiveness of digital strategies used in tandem
Top tips for an effective banner advertisement
Placement in a high foot-fall location that is home to your target audience is paramount for the success of a physical banner advertisement.
Along with an effective position, a well-designed banner will ensure that you achieve your aims. To receive the highest return on your investment:
Keep on the brand (think colour scheme, imagery and tone of voice)
Ensure your message or call to action is clear
Keep things simple; less really is more
Attract attention – make sure people notice it!
Banner advertising at Dallas Burston Polo Club
At our 2.4-acre all-weather SuperArena® we offer a range of banner advertisement packages, with prices starting as low as £150 per year.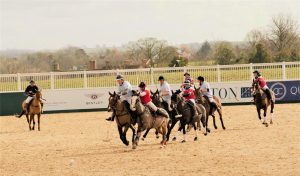 Receiving 70,000 visitors annually, and having been featured on the BBC News, Sky News and RTE, the SuperArena® provides the perfect stage for your large-scale print advert, whatever your business and whatever your campaign. Welcoming local, national and even international guests, a banner at the SuperArena® offers year-round exposure to IXL event guests, wedding guests, corporate event guests, equestrian sportspeople, polo spectators and customers from the on-site restaurant and bar The Millstone Hare.
With a range of sizes on offer, from three to six metres in width, and an optional printing service, the banner sponsorship packages at Dallas Burston Polo Club can be chosen to suit your business needs and help further your reach to our strong customer base.
To find out more and secure your banner, email enquiries@ixlevents.com or call 01926 811 111.