Christmas Party Time 2019, Now Is The Time To Book!
Celebrate Christmas at our Magical Marrakesh Themed Party
With just three months to go until Christmas party time 2019, plans are being hatched, presents are being bought and festive parties are most definitely being booked. But if the C word hasn't crossed your mind yet, fear not! For we have an epic themed bash in store for you to celebrate the snowy season, with friends or family or as a fancy work night out.  Let us introduce you to Magical Marrakesh…
Magical Marrakesh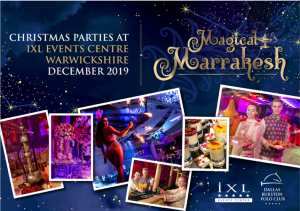 Designated the African Capital of Culture 2020, this year's Christmas party for 2019 is themed around the enchanting city of Marrakesh, one of the four imperial cities of Morocco. Nestled in the shadows of the Atlas Mountains, the Red City offers ancient artistry and opulent glamour; everything you can expect from the IXL  Christmas Party 2019.
From the bustling Medina and seething souks to the luxurious Ville Nouvelle, Marrakesh is a magical mix of east and west; a dazzling city where European, African and Middle Eastern cultures collide in a vibrant explosion tantalising each and every sense. It's busy, it's thriving and it's inescapably alive. A trip to this unique city is an unforgettable experience, and that's what you will get with our Magical Marrakesh Themed Christmas Party.
What's Included?
With over six hours of tempting tipples, delicious delicacies and exciting entertainment, our Christmas Party is a no expense spared evening of celebration, fun and festive cheer. An arrival drink greets guests, followed by tantalising hot and cold canapés, to be enjoyed in the beautiful Moroccan Bar. To follow is an exquisite three-course dinner, served in the Moroccan Palace, before the after-dinner party and entertainment begin. Aerialists, dancers and Arabian themed entertainers take to the stage to wow and entrance, and our resident DJ keeps the dance floor moving until the early hours. A charity casino, midnight breakfast and magical photo experience add the finishing touches, while the late bar, open until 1 a.m., will keep you dancing all night long.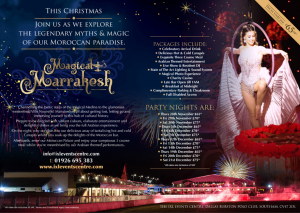 Where and When?
Held at the multi-award winning IXL Events Centre at Dallas Burston Polo Club, our themed Christmas Party will be held every Friday and Saturday night between the 6th and 21st of December. Set in the heart of Warwickshire's beautiful countryside, the venue is located in a stunning 600-acre estate, home to prestigious polo tournaments and luxury events.
Close to the M40 and transport links in Leamington Spa, the IXL Events Centre is easily accessible from near and far; a great destination from which to celebrate Christmas.
Wondering what to do for Christmas party time 2019? Wonder no more!
To find out more and book your place, visit the IXL website or call 01926 811 111.