Toasty Tipples to Keep you Warm this Christmas
As December opens its doors to the fairy light- and tinsel-adorned Christmas run-up, so too do our hearts to the comforting warmth of hot Christmas tipples. With the nights drawing in and the temperatures dipping ever-lower it is well and truly time to get out our favourite mugs to enjoy a cup (or two) of something thoroughly indulgent, and oh-so-necessary. But what will you be indulging in this month?
Popular Christmas Tipple, Mulled Wine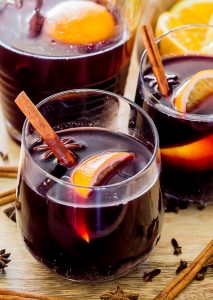 Mulled Wine is a golden oldie, with its comforting, warming spices and a good hit of alcohol (especially if Cointreau is in the mix) to lull you into a lovely, fuzzy Christmas haze. Helping to keep you warm during the coldest of evenings, it can also add a merry tint to even the most taxing of Christmas gatherings. Often served with a ladle from a cauldron-style pot, it immediately adds a sense of magic and theatre and can act as the centre piece of a party, and wafts Christmas cheer to every nock and cranny of the entire house
Hot Chocolate With A Twist To Make The Perfect Christmas Tipple
Hot Chocolate au naturel is the perfect indulgence at this time of year for those of all ages, but spreading like wildfire around the Christmas markets of the UK and beyond is Spiked Hot Chocolate, an adults-only version of the childhood classic. While Baileys is the obvious and most widespread addition, this concoction is not limited to just creamy Irish whisky. For the nut fanatics amaretto and Frangelico are great twists, adding a depth of flavour that some hot chocolates fail to reach alone. Coffee lovers can be catered for with the addition of Kahlúa, giving a grown-up feel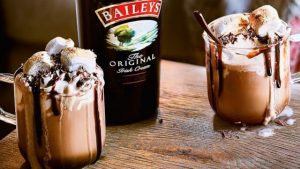 (however many mini-marshmallows are sprinkled on top). And for those who's tastebuds crave something more elaborate still, there are a plethora of weird and wonderfully-flavoured vodkas and schnapps, to lure even the most fussy of father-in-laws to engage in the family festivities.
The Classic Christmas Tipple Is Of Course Eggnog
What Is Eggnog?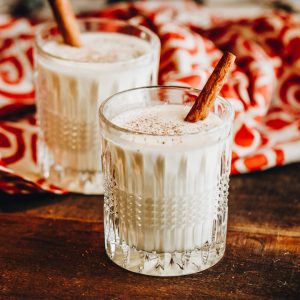 While often thought of more as an American tipple, Eggnog is believed to have first been consumed in Britain, originating from 'posset', a hot, spiced drink made of milk curdled with wine or ale. As the drink moved across the Atlantic to the Americas the English liquor it was originally mixed with was replaced with Caribbean rum, a much cheaper option for the American colonists. This rum-infused delicacy became a popular beverage for many American citizens over the festive period, with the recipe slowly adapted by different regions to reflect their tastes and traditions. Nowadays – along with rum – brandy, whisky and even tequila can be added to spruce up your blend, which is slowly making its way back into fashion over here on British soil.
And for those who want to try something a little different this year: consider switching up your usual Mulled Wine to a Hot Spiced Cider; try swapping your milk or dark chocolate for a luxurious vanilla-specked white in a snow-scene hot chocolate; or to keep it tee-total opt for a soothing Chai Tea or Latte, which your head will thank you for in the morning.
Christmas Tipples At Millstone Hare
If these Christmas tipples have caught your attention why not pop along to our stunning country pub located on the Dallas Burston Polo Club Estate.  At The Millstone Hare you can enjoy Christmas tipples in comfortable warm surroundings, with wonderful friendly staff.