Dressage Events At Dallas Burston Polo Club
Its not just about the Polo at Dallas Burston, we are also a favorite venue for dressage competitions, along with other unrelated equestrian events.  However for this blog post lets concentrate on the stunning equestrian discipline of dressage.
What is Dressage?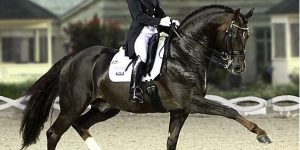 Dressage meaning training in french is a discipline of horsemanship, which stems from the ancient Greeks.
Unlike other equestrian disciplines the horse and rider seamlessly bond, with the rider using rider aides creating a flow of movement. To the untrained eye it looks as if the horse is acting on its own as the riders aides are barely apparent.  Top level horses and riders perform magical tests, which are breath taking, for example Olympic gold duo Charlotte Dujardin and Valegro, take a look at Valegro's very last performance here, make sure you have your tissues handy!.
Although dressage dates back more than 2000 years we still see today the same training skills, and maneuvers in classical dressage.
How is Dressage Scored?
Dressage performances are carried out in standard 20 metere x 60 meter arena's.  In competition these performances are referred to as tests.   Each test has different levels and the horse and riders are judged depending on the level they are performing at.  The score of the test are on a scale of 0 – 10 with zero being not executed and 10 being excellent.  A horse and rider team are unable to move up a level until they they score 60% or above in all requirements.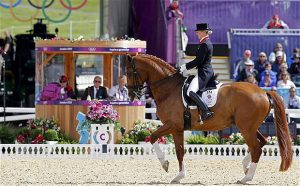 There are various levels that a horse and rider must complete these are-
Introductory Level Dressage – Local community competitions
Training Level
First Level
Second Level
Third Level
Fourth Level
Once all these levels are completed the horse, and rider are able to perform at the FEI (Federation Equestrian International) Levels, these consist of-
Intermediare1
Intermediare 11
Grand Prix
As with any Grand Prix, only the very best of the best have the privilege of competing at this level, and in international dressage competitions.
Who's who in Dressage?
Arguable one of the most well known dressage riders to date is Charlotte Dujardin she is the only known rider to hold the complete set of individual elite dressage titles.  These are the individual Olympic freestyle, World freestyle and Grand Prix Special, World Cup individual dressage and European freestyle, and Grand Prix Special titles.  Of course she is only one half of this amazing partnership, all her titles were accomplished on the equally famous and adored by many Valegro.
Carl Hester MBE and Uthopia proved to be a wining team in 2011 winning a team gold medal at the European Dressage Championships and individual silver medals in the Grand Prix Freestyle and Grand Prix Special.  This led them both to be selected for the British Olympic team in 2012 where they again won team gold.
Dutch born Edward Gal and Totilas (Toto to his friends) won triple golds at the FEI World Equestrian Games in 2010, this made them the first pair to get all three gold titles at a single FEI world games.
MBE won team gold along with Carl Hester and Charlotte Dujardin in the 2012 Summer Olympics, also winning a bronze as an individual rider on Mistral Hojris.
Where are the dressage competitions, and where can I watch them?
At Dallas Burston we are thrilled to be hosting various dressage events at the polo club.  The first one will be in April on the 18th (2018) from 10am to 7pm, if you would like to get involved then more information can be found on our events page, or please call us (Tel: 01926 811 111)  to find out more about this event and other events taking place throughout the year.