Polo wraps
Seeing polo ponies turned out ready for action is a sight to be seen, polo wraps on the ponies legs matching team colors, however, this is not just for appearance. Polo wraps are essential to protect the polo pony from being knocked by the ball, mallet and  more importantly damage from other ponies hooves when barging or in close proximity .  

They also offer a level of support when the pony is moving around such as turning, short furious runs and sudden stops.
Leg protection, will a polo wrap do it all?
Sadly you cannot rely on a polo wrap as an answer for everything; There are many different types of leg protections for horses and ponies, and they vary hugely for whatever requirement; Stable boots for indoors, travelling boots within the box, exercise boots/bandages, ones for hacking out, ones for competing in.  The most important thing is to consider what the objective is for purchasing them… Are you wanting to keep your horse/ponies legs safe from knocks or are you wanting to support the tendons?  Once you have decided on the objective, you will find there are simply hundreds of leg protectors out there, it is well worth looking at reviews from other riders to see what their experiences are, expensive does not always indicate the product being the best!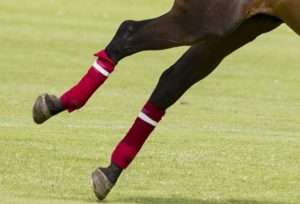 Applying a polo wrap
It is essential that the application of either a polo wrap or bandage is done correctly, incorrect application could result in discomfort for the horse/pony.  An incorrectly applied polo wrap could put pressure on tendons, and if not kept clean the dirt/shavings could cause pressure points.  Take a look at YouTube there are some very useful how to's to be found on there.
Advantages and disadvantages of Polo Wraps
Many riders prefer a polo wrap to a boot, this is because when wrapped correctly the wrap works with the contours of the horse/ponies legs, where as a boot made of neoprene for example is more rigid.  Rigid boots can cause rubbing to existing scar tissue, where as the fleece material in the polo wrap is much softer and less likely to cause a problem.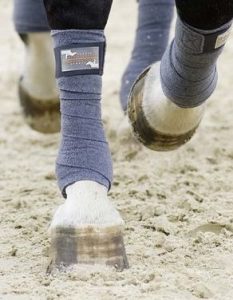 The obvious disadvantage of a polo wrap is time consuming, especially if you are new to wrapping.  Unfortunately in the UK we do not have the weather for polo wraps, they simply soak up the water.  You will need a couple of sets so that you can regularly wash them to keep them free of sweat and dirt.  If applied incorrectly they can cause more harm than good.
If you now have an appetite for polo, and you want to get up and close to polo ponies, why not give our Polo experience a try? find out more here, or call Tel: 01926 811 111