New Year's Eve Traditions
As we hurtle through December and inch ever closer to the chocolate-dipped and gravy-laced Christmas holidays, we too are steaming full-speed ahead towards the end of the year. Nay, the end of the decade! And we all know what that means: a big New Year's Eve knees-up. Now, while you're busy ticking items off your gift lists and planning the elaborate Christmas dinner, spare some time to consider the second big event on the festive calendar, because this year, ladies and gentlemen, it's going to be a big one.
However you choose to spend your last evening of 2019, and indeed welcome in 2020, there are a handful of traditions that we just can't seem to escape. From that Scottish song to puckering up beneath a parasitic plant, here are the most common New Year's Eve traditions practiced in the UK, and the stories behind them.
Auld Lang Syne 'The' New Years Eve Song!

Love it or hate it; know the words off by heart or not at all, you'll be hard-pressed to get through any New Year's celebration without at least one rendition of Robert Burns' Scottish song.
Written as a Scots-language poem back in 1788, 'Auld Lang Syne' can be translated to English as 'long long ago'. Only set to the tune of a traditional folk song following Burns' death, it is used to bid farewell to the old year and remember 'days gone by'. It is generally understood to symbolise reunion and reconciliation and is traditionally sung in Scotland and English-speaking countries as the clock strikes midnight.
Your New Years Eve Midnight Kiss
As the countdown to midnight ends, and the chords of Auld Lang Syne commence, couples come together (and singletons unite) to lock lips, often under the mistletoe. This has supposedly come from the idea that the first person you encounter in the new year – and the nature of that encounter – sets the tone for the coming twelve months, and, really, who doesn't want a romance-filled 2020?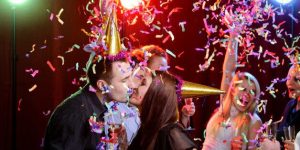 The role of the mistletoe is said to come from the Romans' annual Festival of Saturnalia, during which time the plant was associated with fertility and peace.
New Year, New Start
With the 31st December often the last hoorah before a perhaps more sober January, thoughts always turn to goal setting and new year's resolutions. And this is certainly not a recent trend. It is thought that the ancient Babylonians – over four millennia ago – would make promises to their gods at the end of the year, and if they kept their word would be rewarded in the coming year. Nowadays these promises are generally made to ourselves, with common resolutions including eating healthier, doing more exercise, changing career path.
New Year's Eve Party

Whether you follow all, some, or none of the above traditions, New Year's Eve is always a party, and this year is certainly no different! The Millstone Hare is hosting an 80's themed bash on 31st December, to see the new year in style.
Tickets cost £25 and include entry, a buffet dinner, a DJ and disco. Fancy dress is optional, but there will be a prize for the best 80's costume!
Tickets can be bought in person at The Millstone Hare, or by calling 01926 830255.
See you there!