Christmas Menu 2019 at The Millstone Hare
December is here. The advent calendars have been started. The countdown is officially on. While presents may not be opened until Christmas Day itself, there is thankfully no societal guideline that disallows consumption of traditional Christmas fare in the weeks preceding the twenty-fifth. If anything, the more Christmas-related meals the better! So we shall take this opportunity to introduce you to the Christmas Menu 2019 from The Millstone Hare, deliciously available every day from now until Christmas Eve.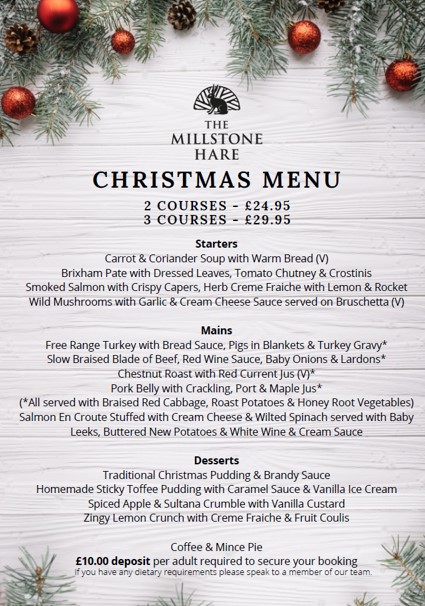 Starters As You Mean To Go On
Nothing says 'Christmas is coming' like a slap-up three-course meal with your nearest and dearest. So before galloping straight to the main event, take a moment to savour the range of starters on offer, to whet your appetite for a celebratory feast. From warm and nourishing soup to delicate smoked salmon, the range of starters has something for everybody – meat eaters, fish lovers and vegetarians alike.
Festive Food
Whether you're a stickler for tradition or culinarily inquisitive, The Millstone Hare's brand-spanking-new festive menu has got the whole family, or office party, or girls' night out, covered. Adore your turkey served with creamy bread sauce, dinky pigs in blankets and lashings of gravy? You won't be disappointed. Prefer your roast with slow-braised beef or succulent pork belly? The choice is all yours. Looking for a plant-based dish that doesn't miss out on flavour? The chestnut roast has got your name all over it. Or already sick of traditional British Christmas dinners altogether? Pas de problème, mon ami! The salmon en croute stuffed with cream cheese and wilted spinach will provide you with some elegant relief.
Don't Forget Dessert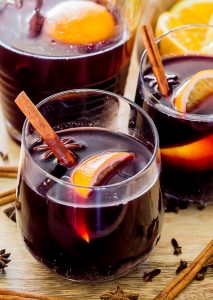 With Christmas a time of indulgence, no Christmas meal can be complete without a thoroughly decadent and totally delectable pudding. Go on, treat yourself – it's Christmas! While traditional Christmas pudding has a love-hate reputation, served with boozy brandy sauce we think it tastes nothing short of heavenly.
If that's not to your palate there's no shortage of other sweet treats, like the rich and warming homemade sticky toffee pudding or spiced apple and sultana crumble. For a healthier twist on afters try the zingy lemon crunch served with creme fraiche and fruit coulis, which is lighter and fruitier but definitely just as tasty. Coffee and mince pies provide the perfect conclusion to your festive feast if you still have room!
Set in the cosy on-site restaurant within our 600-acre estate, our old English style pub provides the perfect backdrop to socialise with friends and family this Christmas. At just £29.95 per person for all three courses, or £24.95 per person for two, tables are booking up fast.
To ensure you don't miss out book your table now by phone on 01926 830255 or online at The Millstone Hare.
Then all you have to do is sit back, relax, and decide which dishes to have!