Richard George Tailoring Showroom at Dallas Burston Polo Club

Richard George Tailoring, bespoke service with sartorial elegance at its heart, has opened its new showroom at the Golden Jubilee here at Dallas Burston Polo Club, in the heart of rural Warwickshire. Richard George describes his new location as, "relaxed and contemporary… reflecting the luxury, quality and service you can expect from Richard George Tailoring".
Richard George Tailoring
With a focus on making garments that stand the test of time, Richard George Tailoring takes inspiration from classical tailoring styles and intertwines subtle contemporary details to reflect individual style and taste. Each piece is crafted using the highest standards of production, ensuring they are made to last.
Richard George Gunton
Company founder Richard George Gunton began his foray into the world bespoke tailoring at the age of 17, with his first job shadowing the trouser maker at a tailor's workshop in Birmingham. From here he moved to London's Savile Row, where he worked under a master tailor, gaining invaluable knowledge and experience of traditional British techniques in luxury tailoring. Returning to the Midlands to work as a Head Tailor, Richard went on to found his very own bespoke tailoring service, now serving clients at Dallas Burston Polo Club.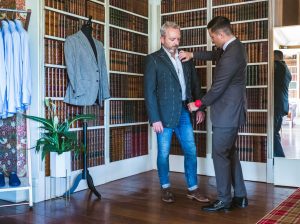 The Process of Creating a Bespoke Suit
Investing in a suit from Richard George is an experience like no other. Split into five stages, here's what you can expect from your Richard George journey…
Fabric Selection: Whatever look and feel you are after, the expert tailor helps you to select the perfect fabric.
Design Details: Express yourself in the finer details of your garment, from hand-stitched embroidery to fine ox horn buttons.
Measuring: A personalised pattern for a perfectly-fitting product.
Making: German-made thread, Italian horn buttons and silk lining come together as the most highly skilled craftsmen create your suit in the Richard George workshop.
Final Fitting: Within four to six weeks the anticipation of wearing your unique hand-crafted suit becomes a reality.
Other Services offered by Richard George
As well as their brand new showroom here in our Golden Jubilee, Richard George Tailoring offers a handful of other services to their clients.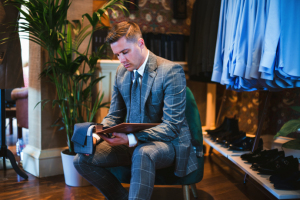 Travelling Tailor: Bringing the Richard George showroom to you, at a time and place of your convenience.
Dressed for the Day: A pre-wedding service to ensure grooms and groomsmen look perfect for the ceremony.
Style Advice: Complimentary guidance surrounding colours, patterns and textures, to guarantee that you feel comfortable and confident in your Richard George outfit.
What His Clients Say
Director of Operations here at Dallas Burston Polo Club Major Richard Carney MBE is a loyal client of Richard George. He explains, "I would trust no other with my tailoring. It is evident from the many years Richard has been in this industry that he truly understands all required to ensure every client is at their best when wearing Richard George."