Spring- The Perfect Time To Have A Wedding
Spring is seen as a time of renewal; a period of growth, light, happiness.  The days get longer and brighter, and the great outdoors becomes warmer and more appealing.
Our thick woolly jumpers are traded in once more for lightweight alternatives, and pastels and paisley prints make a welcome return to our wardrobes. And much of this transition is prompted by the season itself – the changes in nature have a knock-on effect on us, both outwardly and within.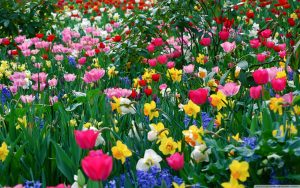 As the natural world wakes up for the year, spring becomes the perfect time for new beginnings, fresh starts and re-growth. Which is why it's such a wonderful time to tie the knot. Harper's Bazaar even dubbed May 'the best month for weddings'.
To ensure your spring wedding hits all the right notes try to replicate Mother Nature's magical touch on your big day, and you'll be well on the way to spring into married life.
Spring Flowers The Perfect Addition To A Spring Wedding
An obvious detail – but not to be overlooked – is the use of flowers. Bride and bridesmaid bouquets are near impossible to forget, along with floral table centrepieces, but there are many more ways in which flowers can be used to enhance the look, and scent, of your wedding day.
With the help of a hair stylist, or a nimble-fingered friend, the hair dos of the bridesmaids can be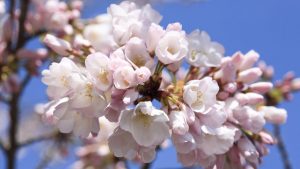 elevated from subtle to sublime with the careful positioning of some freshly-cut blossoms. And for the bride who's not afraid to make a statement, consider a floral crown to finish your look.
Since Kim and Kanye wed, back in 2014, the use of flower walls as romantic backdrops has spread like wildfire. Now used at birthday parties, baby showers, and perhaps even your local bar, the flower wall trend does not seem to be slowing, and, undeniably, makes for a wonderfully Instagrammable event. But beware of the cost. We can't bare to think about how much the West's paid for their wall of white peonies, roses and gardenias, but, hey, if you can afford it, why not! If not, look into imitation options made from the likes of artificial silk and paper.
Wedding Photos In Spring
Another way to really capture the essence of spring on your day, and to keep it alive for years to come, is to ensure that some of the photos are taken outside.  For the wedding portraits, traditionally taken immediately after the ceremony, escaping to nature will not only make for some stunning photographs in the album, but will also provide you and your new spouse a precious moment alone during which the only requirement is to gaze lovingly into each others eyes. Mystical wooded areas or blooming fields work particularly well, with the vivid colours of the landscape contrasting excellently with white, ivory and champagne gowns.  At the Dallas Burston Polo Club Country Estate you are surrounded by stunning countryside, enabling you to create the perfect back drop to any wedding photo.
Spring Wedding Tip
For the extra wow-factor, get clever with your invites and send them on plantable paper, embedded with seeds which your guests can plant, water and watch grow. Not only will you be doing your bit for the environment, you will be setting the scene for your nuptials in the most beautiful way.
And, you never know, you might even receive some of the blooms as a gift when the big day comes around!