Play began at Dallas Burston Polo Club on Tuesday 17th May with Steve Rigby's Limitless against Max Kirchoff's Snakebite team at 6pm. Limitless took an early lead with Matias Amaya playing an open game, ably supported by Jimbo Fewster. Play turned after Snakebite's David Ashby successfully defended a penalty taken by Matias Amaya and carried the ball up the field to level the score to 3-3. Two additional goals sealed the deal for Snakebite, giving them a strong start to this Victor Ludorum tournament.
Wednesday 18th May was a disappointing result for Angels, coming up against Peter O'Rourke's formidable Strategic team who stormed to victory with 8 goals, fresh from their recent success in Barbados. The team gelled together well, with play highlighting Lorenzo Larumbe and Matt Evetts. The evening sky provided a dramatic backdrop to the C.A.N.I vs CCPC game at 7:30pm. A battle between CCPC's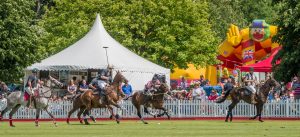 Fabio Lavinia (4) and C.A.N.I's Tomy Iriarte (5) resulted in some great open play, but the teams proved a match for each other and drew 8-8.
Finals day dawned bright and sunny, with exhibitors and delicious gourmet street food vendors lining the avenue up to the Clubhouse. Through to the final of The Stoneythorpe Cup 6 Goal VL were Snakebite and C.A.N.I. C.A.N.I took the early lead and held on to the third chukka. Then Snakebite, using a tactic seen earlier in the week, suddenly launched a powerful assault, gaining two goals in the fourth chukka and taking the score to 6-5 in the last 30 seconds. A tense match, expertly commentated by Felix Wheeler, with the trophy presented by the Mayor of Southam. The subsidiary final, The Southam Trophy, saw Strategic against Limitless, another close match finishin at 7 goals to 6 to Limitless.
The Club also hosted the Ian Donald Memorial Vase, following the sad news of Ian's passing in May. This stunning 0 goal trophy was a fitting tribute to a dear friend and member, and was won by DBPC home team of Siminetti Sky, with Huw Beavan recognised as Most Valuable Player sponsored by Core Health and Wellness, leading the team to victory with 5.5 to 5 over Anchor House.