Award winning Leamington florist, Sarah Horne, offers her advice on choosing your wedding bouquet…
When choosing your bouquet think about what you want the flowers to convey in terms of mood for your wedding.
If you are getting married in a country house hotel or a more formal building or marquee then a more traditional formal style looks beautiful, so keep your bouquet neat and classic and choose classic flowers such as roses, peonies lilies or hydrangeas. Roses in soft tint and trailing ivy lend this theme a very romantic interpretation.
You may opt for a very sharp contemporary style, in which case clear contemporary colours such as aubergine, lime green or reds and cerises set the scene well as do mixed primary colours featuring Gerbera or Cala Lilies. Tropical flowers also fit very well with contemporary styling.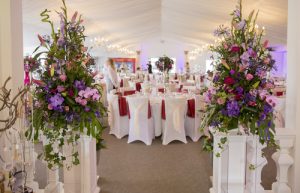 Additions of crystals and pearls glitz up bouquets for a glamourous black or white tie wedding, whilst the beautiful cottage garden look is perfect for a little less formal mood; using a slightly stronger colour palette, this theme embraces all of those pinks, whites, lilacs and purples in all their glorious tints and tones found in English country gardens through the summer, complemented with garden foliages and herbs.
If you are looking for a very relaxed feeling to your wedding day why not opt for a country meadow style which focusses in on grasses, Thalaspi, Gypsophilia and tiny bloomed natural looking flowers such as Phlox, Astrantia and September flower. These look stunning for vintage or outdoor themed weddings where the bouquets take on an eclectic mix of flowers and colours.
GOOD TO KNOW: Sarah offers a free consultation with one of the team's Senior Wedding Florists.
Things to decide before your first consultation
1. Select your dress and the bridesmaids dresses, you then have a colour palette to work with.
2. Choose your venue as this will also dictate colours and table designs – Sarah has worked on a number of functions at DBPC and knows the venues well!
3. Think about what part you would like the flowers to play, don't underestimate the impact that well designed, well placed flowers can have on your wedding day.
4. Set a rough budget, this will depend on how important the flowers are to you but on average, Sarah suggests this is around 10% of your total wedding budget.
5. Simply think about any flowers you particularly love and want included, and equally, those you don't like and don't want to see!