10 reasons you''ll love the Golden Jubilee Pavilion at Dallas Burston Polo Club
1. It's beautiful classical design makes it an elegant blank canvas for you to build on. Stay simple with minimalist decorations, or go to town with sophisticated theming – the Jubilee will work with you.
2. Overlooking both a polo ground and the historic parkland, the Golden Jubilee has plenty of outdoor space for your guests to explore. The parkland also provides a great backdrop for those all-important photos.
3. It''s got a civil ceremony licence! What better way to say "I do" than under crystal chandeliers with a polo match being played outside?
4. Your guests can park within 15 metres of the entrance to the venue – handy for those guests on heels!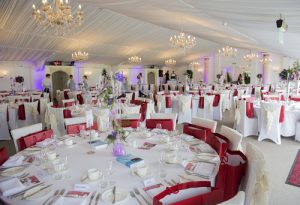 5. Who doesn't love a long sweeping driveway? There''s the opportunity to enter through the grade II listed ornamental gates and arrive in style at the Golden Jubilee. Two entrances make it easy for the newly-wed couple to stage a sensational arrival.
6. A prep-kitchen with service entrance makes it easy for your catering team to be discreet, and gives them a great space to work from.
7. Flexible, portable fixtures, like the bar and stage, can be moved around the venue, giving you the ultimate flexibility to plan your seating arrangements.
8. The new conservatory offers a great space for your welcome drinks, as well as a focal point for the gift table, guestbook, and photobooth!
9. It''s all on one level with easy access, whilst an adjoining outdoor enclosed paddock makes for a stress-free children's play area.
10. There's no one else in sight – you have exclusive use of the Golden Jubilee and its surrounding area. Perfect.