Meet our new Polo Manager!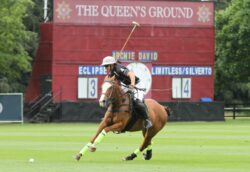 We are so pleased to welcome Matias, our new Polo Manager at Dallas Burston Polo Club to our team!
We are sad to see Huw Beavan, our former Polo Manager leave, however, we wish him the very best of luck in his new ventures for the future.
We asked some questions to get to know Matias a little more, what did he say?
Name: Matias Amaya
Age: 37
Where are you from? Originally from Lobos, Argentina but now live in Warwickshire, UK.
How long have you been playing polo? I started playing polo in Argentina when I was 8, my Grandfather and Father were also both professionals.
What is your background/experience in polo? I came to the UK in 2005 and I played for different teams up and down the country. I currently hold a 5 goal handicap.
What sort of things do you expect to learn in a polo lesson? When having a lesson we work on horsemanship, hand eye coordination and perfecting your swing, whilst having fun!
With Matias's wide range of experience, he is the perfect polo teacher to show you all the tips, tricks and give you the knowledge to learn more about the sport of polo.
If you are interested in having a polo lesson please contact Matias on matias@offarexpolo.co.uk or call 07957 488174 for more information.