Three Top Tips for a Successful Offsite Meeting
Let's face it, the office – where we spend the majority of our waking weekday hours – is often not the most inspiring of locations for a totally kick-ass meeting.   It's everyday, it's business wear, it's tiresome office politics.  Which is the very reason why more and more businesses are holding offsite meetings.  A change of scenery, a change in energy, a change from the ordinary: these factors can facilitate a thoroughly successful offsite meeting, if planned and executed well.
Poorly thought through out-of-office meetings can be time consuming, costly and embarrassingly inefficient; well formulated ones can be effective, motivating and advantageous to your business. To ensure your offsite meeting hits the right chord, follow these three top tips to be well on your way to your most successful meeting yet.
Offsite Meeting Tip 1 – Create a clear agenda
For any meeting to succeed you first need to define its goal(s). This may sound basic and obvious but can often be overlooked. What are you wanting to get out of the meeting? Do definitive decisions need to be made, or is the purpose to come up will some killer creative ideas to sift through when back in the office? Whatever the desired outcome, make sure you know and understand it, along with all those to be attending. Once this is clear, create an agenda that will help you achieve it. Keep it realistic by restricting the number of items on your agenda to give yourself and your colleagues time to really explore the options and think outside the box. And keep it relevant by ensuring that every point will help you to move closer towards the goal(s) you previously defined.  If some anomalies
have creeped onto the agenda, be bold and get rid!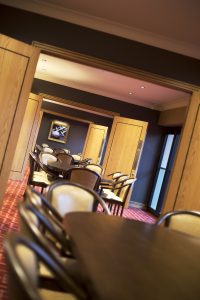 Lose the lengthy presentations when having an offsite meeting
Holding a meeting away from the office is a way to harness creativity, confidence and interdepartmental collaborations. This will not be achieved by shipping your employees to the back of beyond and whipping out your fifty-slide PowerPoint. Make sure the focus is on discussion, engagement and critical thinking.
Your employees need to be a central part to this conversation – you want to open up their minds, not fill them with endless facts and figures. If a chunk of information needs to be relayed for the purpose of the meeting, consider presenting this at the office the day or week beforehand, or sending it to the attendees as some light pre-meeting reading.
Start communication early
Essential to the success of any business meeting or brainstorming session is the comprehension from all of the logistics, objectives and programme.  In terms of the absolute basics – date and location – confirm that all invitees are available and able to get there.  Perhaps conduct a poll on two or three possible dates to see which is the most convenient, and send the invites early to reduce the risk of clashes.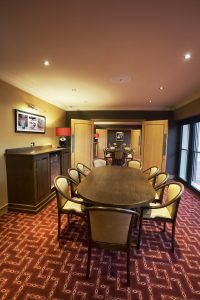 Circulate the agenda in good time too – others may have relevant items to add, queries to the proposed order, or other sensible comments that could help the smooth running of the day.  Much better to know these things in advance – and have the time to tweak the schedule accordingly – than to run into problems on the day itself.
Now go and define your business goals and plan your most successful meeting yet!
If you are looking for a venue for your offsite meeting get in touch with us today, we can cater for large and small groups.  We offer bespoke solutions to meet all your requirements, to make sure your offsite meeting is productive and successful. Tel: 01926 811 111