Planning Boxing Day
With Christmas Day being such a big occasion in many British households, you can be forgiven for getting through much of December without a second thought for the day that follows. With presents to buy, hide and wrap and turkeys to stuff, roast and carve, one can get to Boxing Day with no ideas of what to do, and a tupperware full of leftovers to magic into an appetising spread.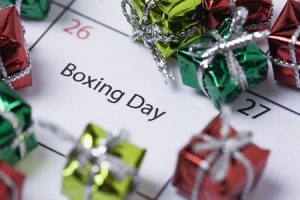 But however much you may love turkey curry, there is more to Boxing Day than consuming the leftovers; it can be a great time to have fun with the family without the overriding pressure of the big day to contend with.
Getting The House Ready For Boxing Day
But if your main concern for December 26th is "sort out the house!", fear not, we have you covered. With children's presents often strewn across every floor, surface and cubby hole possible, the best way to clear up the mess is to get everyone involved, including the children. And to help them get onboard, make it into a game!
Just like a chocolate egg hunt at Easter, which no child will want to miss out on, present the 'tidy up mission' as a game, a competition perhaps, with the first one to clear away all of their gifts rewarded with a gold star / a choice of activity / a blanket of glowing pride. You'll be surprised at how cooperative children can be when there's something to be won (or siblings to be beaten), and if the whole family joins in you'll soon forget that what you're doing is actually a chore.
Family Walks On Boxing Day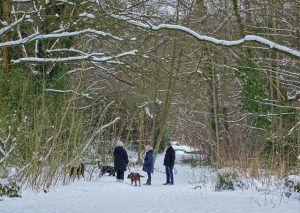 On the other hand, you may be sick and tired of being cooped up indoors and want to get outside and stretch those legs. Great idea. A Boxing Day walk is a wonderful way to get some fresh air and move your body, which is especially important following the inevitable over indulgences of the prior weeks. If we're lucky they'll be a thick blanket of pure white snow just waiting to be trodden on, and with a new pair of Christmas wellies will anyone need anymore persuading?
Boxing Day Family Quiz
Once your body has been stretched a little, perhaps it's also time for some exercising of the old brain. Pull in some help from your wittiest uncle, and get him to devise a family quiz. If you've got a big enough number it's fun to split up into teams, spreading ages and couples between them to distribute the knowledge and up the competitive stakes.
Ask your quizmaster to include questions relevant for all of the ages that will be playing, to ensure that no one feels left out and everyone can contribute. Instead of awarding a prize for the winning team, consider giving the loosing team a forfeit – such as the washing up – which will be a good incentive for people to pay attention and stay on the ball.
Take The Time For A Treat
And finally, if staying close to home doesn't appeal, why not make a trip to one of the big Christmas attractions that you simply ran out of time for in the run up to the big day? Many of these events run until early January, and can attract smaller crowds in the days after Christmas itself.
Look online to see what's available, and give yourself something to look forward to after the manic rush of the big Christmas Day. Go on. You deserve it.